Yay! Today is August 1st, which begins the most wonderful five months of the year! Birthday season is officially upon us, Autumn is on its way, and Thanksgiving and Christmas, along with cooler weather, are on the way! Praise Jesus! I kept singing "It's The Most Wonderful Time Of The Year!" song around the house last night and poor CC could NOT stop rolling his eyes. Crazy man.
What makes this time of year even better, you ask?! CuppaKim's annual
MUG SWAP
is back! Woohoo!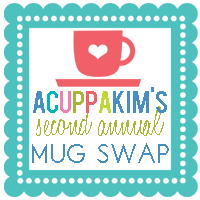 This was such a blast last year! It was my first blog swap I participated in and I LOVED it! I got to know two awesome ladies,
Carrie
and
Hannah
. (Hannah makes the cutest
earrings on Etsy
if you want to look super cool and fashionable.)! I also got to be better friends with the famous Kim, and of course, she's awesome too, so I loved it! Oh, did I mention I got a super cute turquoise mug from Carrie out of it? I think of those three ladies EVERY. TIME. I use my mug. How cool is that?!
So I have already responded that I'll of course be joining up for this year's awesome mug party. Jump on board with us! Anyone can participate and I promise you'll have a blast!
And in case you missed my post about helping Hope4Sudan, please check
here
for more info. They're halfway to the goal, but these people are hungry and need food TODAY. Or, yesterday even. Let's join in and help show them Jesus!